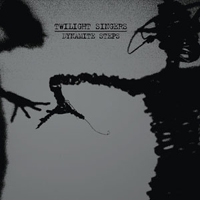 When a singer doesn't have a great voice it is often said that they have a lot of soul. We can look to Bob Dylan and Stephen Malkmus from Pavement as testaments to this. Greg Dulli, the lead singer of The Afghan Whigs and now The Twilight Singers, is another surefire addition to this truism. A cracking voice, a charming whininess, a slight tonal miss – these are all qualities that endear us to the ever personal heart of Twilight's music. But in the case of Dynamite Steps I must concede that Dulli slacked a bit on his vocal duties.
On The Corner
On The Corner
Sure, the man smokes and drinks and is getting chubbier and older every day but he shouldn't have to sound like it. Maybe he is too true to the moment to spend too many takes perfecting the raw output but his voice comes off a bit sloppy and it ends up being one of the weaker points of the album. That's not to say the soul is gone. Part of Greg Dulli's allure is that, although his voice isn't the best musically, it serves to deliver meaningful lyrics with heavy emotion. The mix on this album at times makes it harder to understand the message. Perhaps a producer worked with what was given to him, but another theory is that it was finally time to emphasize the music.
Much like other Twilight albums, Dynamite Steps has variety over its length. I might even be inclined to say the sound has matured past the band's earlier efforts. More rough and distorted when it wants to be yet more melodic and yearning tracks vie for attention. The drum beats are the result of years of experience and create a jerky sense of hopping back and forth. All the layers complement each other nicely and that's what Dulli's collaborations are about- getting veteran musicians together to make something greater than the sum.
I can't say the second half of Dynamite Steps lives up to the energy of the first but this is a solid outing nevertheless. The Twilight Singers still have their mystical charm. And probably one of the best damn live shows out there.
(Visited 70 times, 1 visits today)