Who does Time Warner think they are kidding?
Yes, I understand that it's fashionable to make fun of Time Warner cable. It's been done. The funny thing is, I use them for internet access because they actually offer fast speeds and solid service. My agreeableness surely stems from the fact that I do not use them for TV or anything else. As ancient as a concept as cable is, at least other companies have more modern computer-friendly interfaces. Using the Time Warner TV Guide feels like a flashback to the 80s. Still, even though we're in the Hulu and streaming Netflix age, these companies must try to persevere. But I'm not quite sure I understand Time Warner's new strategy.

Ok, so this is about pride of ownership, right? I'm not exactly sure what building materials have to do with cable service but let's see where they're going with this.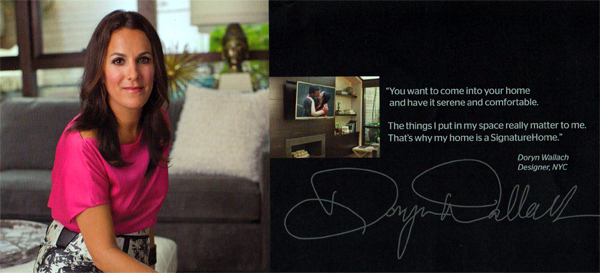 Hmm, they're losing me. I don't think anyone would describe television and phone service as "serene and comfortable". I understand that architects and designers want their houses to look great, but I'm not sure people consider cable boxes and internet routers as 'nice things' to show off.
So what is Time Warner actually offering in this esteemed package? Aside from an attempt to cater to a high-end market, what *is* SignatureHome?
Personal Concierge

Advanced TV

Ultimate Internet

Home Phone
Hmm, it looks like a standard cable/internet/phone package to me. Is anyone else bothered that they didn't gussie up their phone service with a meaningless adjective? I may have been on board if they were offering 'Extreme Home Phone'.
For your $230 a month you get premium channels like HBO and fast internet speeds, and bleeding-edge technology like Caller ID, but you can get the same for half the price. Let's dig a little deeper and see what their boasted "one-of-a-kind entertainment experience" gets us.
Live TV on your tablet and laptops
I want people to realize that *this isn't a service*. I have a Sling adapter that I plug into my DVR that lets me do the same thing and that was a one-time cost of $50.
Home WiFi and the ability to use multiple devices at the same time
More than one device? OUTRAGEOUS! GET THE FUCK OUT OF HERE TIME WARNER! Despite whatever pagan devilry SignatureHome utilizes to allow you to use more than one device at the same time in your own house, anyone can spend $150 on a much better home router than they offer.
Unparalleled personal service
Ok, let's blow my mind here.
"A dedicated product specialist will visit your home and connect your devices to work together seamlessly."
I'm pretty sure when they say "dedicated product specialist" they just mean 'the cable guy'. When the Time Warner 'specialists' were drilling a hole in my wood floor because they "don't mess with walls" the company confirmed my low expectations. So let's translate what this personal service really is.
The cable guy will show you how to connect your cell phone to the internet.
Personal Concierge
This was interesting until I read that this meant '24/7 personal assistance'. I have never once in my life heard of anyone calling tech support a concierge. When my internet went down and I called them up I asked if they had picked up my dry cleaning and they had no idea what I was talking about. On top of that, when pressed for good restaurants in the area, all they could muster was "Red Lobster".
So there you have it, SignatureHome, one of many adventures in my mailbox every day. Bad marketing is not something new and I can't really explain why this particular piece of junk mail got to me. Maybe it's the smug looks on Burton's and Doryn's faces. YOU'RE NOT BETTER THAN ME!
(Visited 107 times, 1 visits today)