After seeing a few good bands at bad venues, it was refreshing to get to see Crystal Castles with a good set up at the Hollywood Palladium.

Venue:
6215 Sunset Blvd Los Angeles, CA 90028
Within blocks of the famous intersection of Hollywood and Vine, the Palladium is larger and more convenient than one might expect. Parking in the area is limited and will probably cost you some money but it is very easy to get through the line and get inside. The Hollywood Palladium went through a massive renovation in 2008 and has very nice Art Deco elements throughout. The accent lighting is moody and the General Admission floor is laid with wood. The stage is shaped like an oval and the entire floor area wraps around it and out to give a good view to many, and there are two balconies for a higher view, one of which is usually reserved for VIPs (and thus, less packed). The hallways and bathrooms are roomy and the AC works great providing a very easy and comfortable experience all around.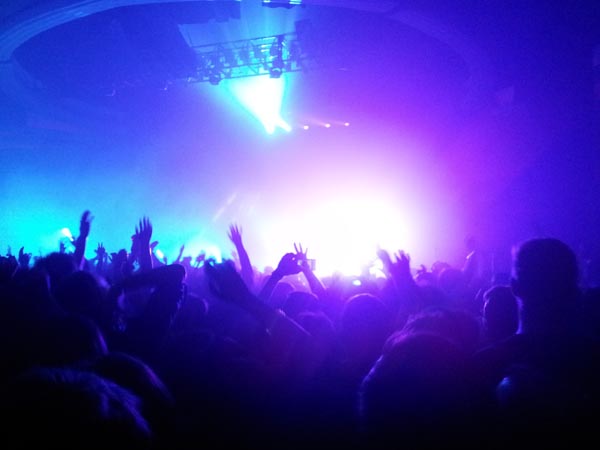 Show:
Simply put, the lights and sound system at the Hollywood Palladium are top notch. Everything about the venue is new and well planned. It was refreshing to clearly hear the music after the debacle at the Santa Monica Civic Auditorium. The smoke show, however, does tend to get a bit crazy here and can impact the visibility of the act. In this case I'd say more of that was on Crystal Castles and the fact that I was watching the show from the back of the floor. In the past I've seen both the Pixies (for a Doolittle show) and Nine Inch Nails (for a Downward spiral show) further up into the mix and had a fine view.
Drinking:
With a bar on each balcony, one in back of the floor and another in the mezzanine area, it is very easy to grab a cocktail and get back to the show. Smokers might be disappointed by the lack of patio- they just kind of stand outside at the front. Food is nonexistent while inside but, it being Hollywood and all, you'd be hard pressed not to see several bacon wrapped hot dog stands on your way out.
(Visited 162 times, 1 visits today)