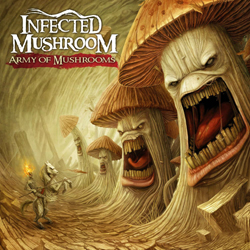 I can't believe I've been posting about music for about 4 years without ever mentioning Infected Mushroom. Not only are they one of Israel's best selling artists ever, but they stand out as possibly the best psychedelic trance djs out there. Psytrance, as it's called, is composed of strange synthetic sounds layered into a complex arrangement. As techno, I've always admired Infected Mushroom's ability to always be evolving the song, somehow keeping it from being boring without losing the hooks. On top of that they are very open to 'mainstream experimentation', love nothing more than hyping up crowds and getting them to dance their asses off, and were the first electronic dj duo I've ever seen to incorporate live guitars into their act a decade ago. Also, cool album art still counts for something.
Army of Mushrooms – Infected Mushroom
Drum N' Bassa 
Drum N' Bassa
Army of Mushrooms takes a step away from previous releases as if to refocus itself in its core psytrance roots. Gone are the poppy vocal efforts the previous 3 albums championed after the success of I Wish on Converting Vegetarians. Some of the melodies are definitely more weird but still the classic Mushroom you'd expect. Never Mind is a great way to open the album; it is a technical masterpiece of the popular and the strange yet catchy.
Here is introduced a noticeable and somewhat expected dubstep influence, a natural step for Infected Mushroom to get psytrance dirty into psystep. I didn't find the one song that overtly pushed the style too appealing but it is a nice ingredient as a minor influence across the collection.
Overall I have to admit that this album seems to have a bit too many 'just average' tracks and falls short of previous titles, but only because Infected Mushroom's catalog is so good. But don't let a quick skim fool you. Spending the extra few minutes to hear Drum N' Bassa out until the end is time well rewarded. As with all of their music, turn up the volume, notice the intricacies, and rock the fuck out.
(Visited 346 times, 1 visits today)